Kimberly Jentzen has been coaching actors to book memorable roles for over 20 years in Los Angeles. Her newly released book, Acting with Impact: Power Tools to Ignite the Actor's Performance shows actors how to find depth in every role.
Jentzen recently completed directing her film REIGN, with Academy Award® nominated Cinematographer, Jack N. Green and Academy Award® winning Sound Designer, David MacMillan. She garnered a Finalist Award from The New York Festivals and Honorable Mention from the Film Council of Greater Columbus for OF EARTH & SKY, which she co- wrote, directed and produced and a Finalist Screenwriting Award from Outfest Los Angeles for her Civil War screenplay, THE GEORGIA BOY.  On stage, Jentzen directed INTERNMENT at the Elephant Theater, BRUNCH WITH GOD at the Powerhouse Theatre; Women in Film's POST OSCAR SHOWCASE at the Pacific Design Center; and the hilarious comedy, PERSONAL SPACE INVADERS, a 2006 Finalist in the One Act Play Festival at the Secret Rose Theatre. Jentzen has also developed and coached critically acclaimed one-person shows; the highlight of which was working with Yolanda King in ACHIEVING THE DREAM; an homage to her father, Dr. Martin Luther King.
Jentzen is a sought-after acting teacher and member of Screen Actor's Guild Conservatory Committee, where she conceived and produced the special event FOR THE LOVE OF THE ART, and is an active member of Alliance of Women Directors. She is also the winner of Back Stage West's Readers Choice Awards "Favorite Acting Coach" (2008-2010), "Favorite Acting Coach/Teacher" (2007), "Best of Acting Coaches" (2006), and currently teaches ongoing acting classes at her studio in Los Angeles, California.
This is an excerpt from Kimberly's book, Acting with Impact: Power Tools to Ignite the Actor's Performance.  She will be doing a book signing at Samuel French in Hollywood on July 23rd.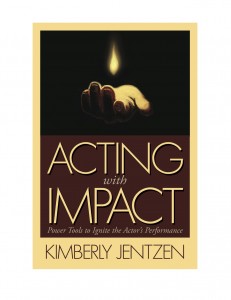 LEVEL 1: Informed
This level of consciousness is the awareness of your emotions, actions and behavior during and after any event. It is how you remember yourself and the things that happened. The informed level takes into consideration your self-image and how you believe you behave. It is your self-awareness and the behavior you own up to and recognize. This level is your conscious grasp of social interactions with others.
Let's say you take a trip to the Grand Canyon. Everyone seems to like you and so you go around collecting everyone's phone number—everyone except for the tour guide, because for some odd reason, you didn't connect with him. Perhaps you felt your stories and jokes were more entertaining for the rest of the group than for him.
LEVEL 2: Unconscious
The unconscious level is actively expressing with no conscious awareness or ownership of your own behavior.
It's the same trip to the Grand Canyon, but you don't remember some of your behavior. You unconsciously and angrily yelled at the tour guide. You felt justified by your actions. Others might have been shocked, but you think of it differently, more like you "scolded him and let it go." You're unconscious of how you actually behaved. If someone were to ask you about it, you would have remembered it very differently than others who were there.
We commit unconscious behavior all the time. It is advantageous to your awareness to "catch yourself in the act," so to speak. Learn your idiosyncratic behavior, your neuroses, your contradictions, your defenses and offenses. They are right there if you are willing to look… they do exist, we all have them. Have you ever been with a friend who talked all the way through a movie and later when you confronted them they didn't even realize it? That is unconscious behavior.
If you don't think you have any neuroses, start collecting observations and journaling your own behavior. You'll surprise yourself. Or survey your friends (the ones who aren't afraid of speaking out or hurting your feelings). And if you don't have any friends, well, that's a clue that something odd is oozing out from under the surface, making it difficult to get close to you. Your unconscious behavior can keep you from allowing true intimacy in relationships and accessing emotion in your acting.
Human beings make mistakes and are neurotic, obsessive and insecure. Sometimes those attributes are manageable, but many times they just show up unannounced. As you become informed of your unconscious behavior, and some of it may be "bad" behavior… forgive yourself. As you forgive your own imperfections, you will find it easier to forgive your fellow actors' imperfections as well as those of the characters you will be portraying. The more aware and accepting you are, the easier it will be to tap into your fearlessness and access the creativity buried in the subconscious.
LEVEL 3: Subconscious
The subconscious is where your essence thrives. It is the seed of your inspiration. In the subconscious, you may or may not be informed of the emotions and ideas that are hidden there. Many of the urges found in the subconscious are never expressed. Sometimes they just show up in our dreams.
Let's go back to the Grand Canyon trip example. The tour guide subconsciously reminded you of your father. It wasn't in the way he looked or talked—in fact, he wasn't even from your culture or ethnicity. But it was in one instance that you couldn't consciously recall. In a glance, the tour guide triggered "father" and an exact sensation of an earlier moment of "father's disapproval" of your behavior. And the instant you picked up "father disapproves of me," you lashed out and then justified your behavior against that tour guide.
This might sound out of this world and unbelievable, but this is the way triggers operate. They aren't always logical or rational. And in acting it is vital to become aware of and come to terms with subconscious thoughts, triggers and unconscious behavior.
When you recognize and own your unconscious behavior, 
the subconscious is safe to come to the surface… and creativity soars.
If you deny or negate your unconscious behavior, you simultaneously suppress the subconscious—which is where your organic instincts live. When you can accept and own all of your behavior, the ugly and the bad along with the beautiful, when you can take responsibility for who you are and how you are… you open a floodgate of honesty to come into your performance.
There are many positive attributes and aspirations in the subconscious. The good stuff in the subconscious is your imagination and the observations that you have carried with you since you were a child. The desire to win an Oscar began in the subconscious. Your behavior is quietly motivated from this third level of consciousness.
The subconscious can also be called your "shadow personality" and is not always known, but can be revealed to you at any time. It is filled with opinions, insights and urges that are not shared socially. Parts of the subconscious could be classified as a culture's taboo behavior. A myriad of neurotic, erotic or abstract imaginations reside inside the subconscious.
In great films like American Beauty, Apocalypse Now, and Girl, Interrupted, the subconscious of the character is revealed through narration. The narrator delivers and exposes the audience to the main character's insights, demons and desires. The audience naturally relates to the inner reality of the subconscious and finds dialogue from this source refreshing, honest, satisfying and cathartic.
Level three is about the real urges, instincts and desires that we hide. It is the catharsis of any great drama. It is the stimulus for the turning point of the script. It is our ultimate need for each other. It is the tenderness we hide. It is our weaknesses and our vulnerabilities. It is our struggle with our own isolation. It is our envy, our pride, and it is our deeply rooted survival instincts. It is always rich with feelings, for we hide our hearts so well from the world and bury its pulse in the subconscious.