Carrie Meadows is a runner, wife, and mother.  She lives with her family in Silverlake.  You can see her blog at www.thesweetest3.com.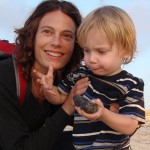 Despite the almost year-round sunshine in Southern California, Angelinos can experience a little seasonal depression after spending so much time in our cars.  Los Angeles may be the most car-populated city in the world, but just a 10 to 20 minute drive can get you to a outdoor haven that will make you fall in love with La-La Land all over again.  Here are some great places where you can hike, run, or relax in the great outdoors- right here, in LA County.
Griffith Park Hiking Trails
There are many places to run and hike in Griffith Park, but my favorite, and a great way to show the city to out-of-towners, is to start at Fern Dell and hike up to the Griffith Observatory.  This is a great place to stop for some water and photo opportunities.  At the Observatory, continue onto the Mt. Hollywood Trail, which will take you about a mile further up for some great views of the city.  On a clear day, you can see straight to the ocean.  Come back down the same way you came up.  When you get back to Fern Dell, stop for lunch at The Trails Café.  This is a dog-friendly trail.  Directions: Griffith Park Los Angeles, CA 90068.  From Los Feliz Blvd., drive up Fern Dell until you see the Playground area on your right (The Trails Café is on the left).  The trailhead begins just past the playground.
Sam Merrill Trail to Echo Mountain
This mostly single-track trail in Altadena is full of switch-backs and inclines.  Some might describe it as rigorous, but reaching the top is worth your effort.  At Echo Mountain (3200 ft) is an historical site where you can find ruins of an old hotel and dance hall that were part of a resort established there when Eagle Rock was nothing but orange groves. This is a great spot to stop for a snack before you head back down. This trial also boasts beautiful views of Los Angeles and the San Gabriel Valley (the photo below was taken on a cold, cloudy day).  Plan to spend 2-3 hours, and watch out for mountain bikers. Some history of this area can be found here. Directions: E Loma Alta Dr Altadena, CA 91001.  From the 210, exit Lake Ave.  Drive north up Lake to Loma Alta Dr.  Parking on the right.
This network of trails starts off as a residential street that borders Jet Propulsion Lab but quickly turns into a lush oasis with bridges, running water, and the perfect mix of shade and sunshine.  On weekends, you can often find a street vendor selling fresh fruit near the parking lot.  Directions:  From the 210, exit Arroyo and go north of Arroyo, less than 5 minutes.  See small parking lot on the left.  Run, walk, or ride north on paved road- JPL will be on your left, houses on your right.  Follow paved road about 1/4 mile until it turns into the main trail.  You can do a relatively flat out and back on the main trail, or get onto one of several smaller trails for a more challenging route.  This is a dog and bike-friendly trail.
If you still haven't seen this exquisite site in San Marino, run, don't walk, to your car and drive there.  For most, the main attraction is the Botanical Gardens (see photo at top of post), where you will find an array of native plants, succulents, roses and camellias, and a Japanese Zen garden.  A walk though the gardens eventually leads you to the Huntington Library, which is one of the largest research libraries in the US.  The building and grounds are beautiful.  For architecture, art, or history enthusiasts, check out the Huntington Art Gallery, located in the historical home of Henry E. Huntington (1850–1927), an influential southern California businessman and art collector.  Plan to spend the day and have lunch at the Huntington café. Directions:  1151 Oxford Rd.  San Marino, CA  91108.
Pt. Magu and Big Sycamore Canyon
A great state park with beaches, camping, and on-site parking.  Big Sycamore Canyon Campground, which is part of the state park, is where you'll find the trailhead of a network of paths through the Santa Monica Mountains.  Expect rolling hills and a lot of sunshine.  These trails can take you anywhere from 4 to 12+ miles.  For those interested in running the trails, a 20K that begins about ½ mile form the trialhead is held every December – this is a tough run!  Directions: 9000 W. Pacific Coast Highway,  Malibu, CA 90265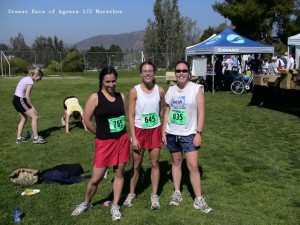 An out and back trail of up to 10 miles of rolling hills and a mix of sunshine and shade.  This is a popular mountain biking area, so watch out for cyclists.  Cheeseboro Canyon can get quite hot in the summer, so best to head out early. For runners, there is a fun and challenging half marathon every spring.  Directions:  From the 101 in Agoura Hills, exit Cheesebro and go north. Turn right stop sign and drive 3/4 mile and turn right into parking lot.
An expansive city park with paddle boats, picnic sites, and a swimming "lake" that kids (and adults) would go nuts over.  Swimming facilities are open daily from mid-June through September.  Be aware that this facility can be very crowded on the weekends.   Directions: 1798 Foothill Blvd., Lake View Terrace, CA 91342.
Verdugo Park
This simple park offers everything you need for an easy, shady get-away: picnic tables, lush green grass, big trees, and a children's playground.  Visit nearby Verdugo Skatepark to watch a little skateboarding, or even give it a go yourself if you're not too rusty.  For cycling enthusiasts, check out the annual Turkey Trot Cyclocross Race held at Verdugo Park- FREE for observers!  Directions:  1621 Cañada Blvd., Glendale 91208.  Nearest Cross Street: Verdugo
Founded as an environmental education center, this bird-watchers haven has a great network of trails for walking or running.  The park will host a 4-mile run on February 27, 2010.  Directions: From the 110, exit Avenue 52 and drive over the Arroyo.  Avenue 52 turns into Griffin Ave.  4700 North Griffin Los Angeles, CA 90031.   Open Tuesday through Saturday, 9 to 5.
Whether you are into running, hiking, biking, bird watching, sunbathing, or relaxing in the shade, Los Angeles has something to offer, almost in your backyard.  Don't be afraid to leave your 'hood- you just might experience a part of Los Angeles you didn't know existed.